Kaliningrad region is separated from the territory of the country by Lithuania and Belerus. Travel is free through Belarus, and in the Republic of Lithuania there is a visa regime for Russians. The following documents provide the right to cross the Lithuanian border without the possibility of being in the country:
Transit.
FTD (simplified transit document).
UPD-ZhD (simplified travel document for the railway).
The owners of a valid Schengen visa of any category can pass through the territory of Lithuania by any means of transport, without restrictions.
The best option for crossing the Lithuanian border is air travel. In this case, no permits must be drawn up and there is enough internal Russian passport.
You can travel to Kaliningrad by train, bus or car, but this will require the issuance of special transit documents.
To travel to the Kaliningrad region by road you need to get the FTD. This document gives the right to repeatedly cross the territory of Lithuania, but there are a number of conditions that must be met:
Since the time spent by FTD in Lithuania cannot exceed 24 hours, in case of unforeseen circumstances related to a car breakdown or for other reasons, it is required to contact the police immediately.
For the owners of the Schengen multivisa, the attitude of customs officers and policemen is more loyal. This is especially true of those who have repeatedly visited EU countries.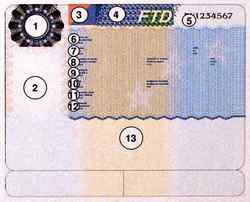 What does the FTD look like?
A simplified transit document is issued at the Lithuanian consulate. Unlike a transit Schengen visa, this certificate is issued faster (7 working days) and costs 5 euros. The term of the simplified transit document is 3 years. Such a document is issued only to residents of Kaliningrad and the region or to persons who have a temporary registration for a period of at least 6 months. Despite the short term of registration, it is better to submit documents in advance.
List of documents
Questionnaire (download and).
One photo size 35 × 45 mm.
Valid international passport.
Passport of Russia.
Completed form.
Medical insurance.
A document confirming the need to regularly visit Kaliningrad or the region (original + copy).

A document on family ties with a resident of the Kaliningrad region.
Certificate of ownership. If the certificate is received less than a year ago, an extract from the state is additionally attached. registry of real estate rights and transactions with it (valid for 1 year).
Confirmation of economic, social relations with organizations of the Kaliningrad region.

Medical insurance of international standard with a coverage of not less than 30 000 euros.
A passport must have a validity of 3 months more than is required to complete the trip. A copy of photo and registration pages is attached to the Russian passport.
The questionnaire is filled out by hand in block letters or printed out on a computer. No erasures, corrections or deletions are allowed when filling out the questionnaire. In the questionnaire there is a point where the family ties with the person living in the territory of the Kaliningrad region are indicated. This item is filled in as much detail as possible.
For minor children, an additional birth certificate is prepared along with a copy. The accompanying parent attaches to his passport a copy of the page where the child is inscribed. Even if the child has his own international passport, it is necessary to apply a metric and a copy of it until he is 18 years old. To cross the border, notarized parental permission is required. Permission is not required if both parents accompany the child.
Passage of the border by car:

To travel to the Kaliningrad region by rail, you can get UPD-ZHD - a simplified travel document on the railway transport. To use it: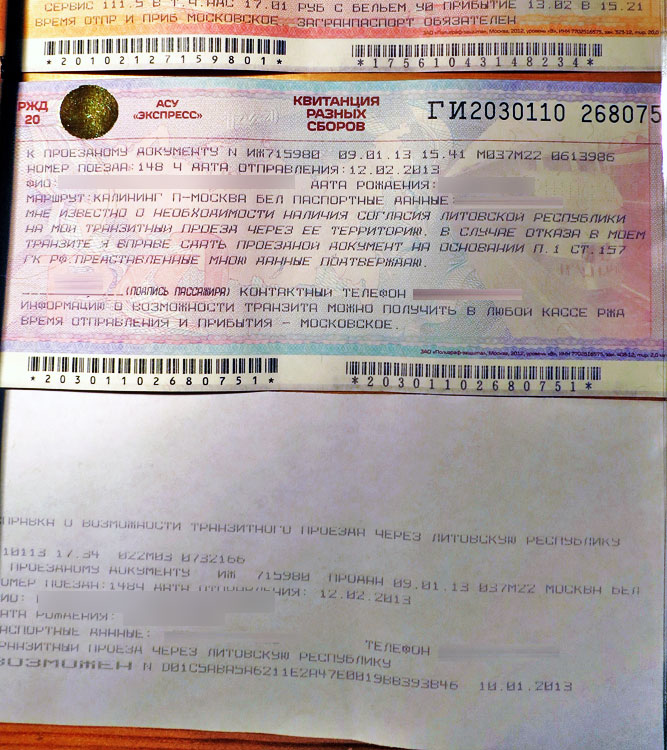 The travel document can be ordered no earlier than 45 days and no later than 28 hours before the intended departure. This applies to tickets purchased at the point of departure. If a ticket is purchased at an intermediate station, then the maximum period for purchasing a ticket is 3 days, and the minimum is 28 hours.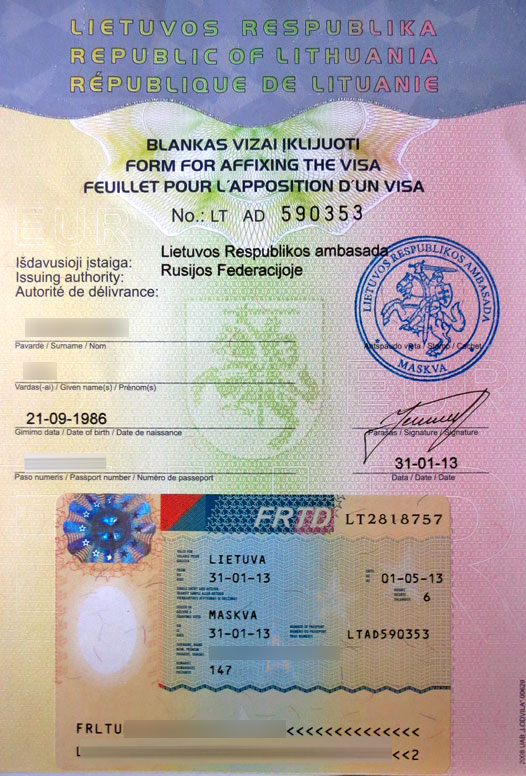 What does an FRTD look like?
After boarding the train, you must fill out a questionnaire, which are distributed by the guides. The document for crossing the border (UPD-ZhD) is issued on the train in advance free of charge.
When traveling through a Lithuanian territory, the following rules must be observed:
Do not leave the car at the bus stops.
Do not use any transport other than rail.
To be in Lithuania no more than 6 hours.
By definition, it is precisely this time that is necessary in order to completely drive through the republic with all the stops. The FRTD is issued for a period of 3 months.
The provision of the FRTD is only for Russians, tickets are purchased at the Russian box office. For a child up to 14 years old, traveling in transit through Lithuania to the Kaliningrad region, a travel document is issued to an accompanying adult. When this is presented international passport In which the child is inscribed. A child under 5 years old who does not occupy a separate seat goes for a free ticket.
Entrance to Kaliningrad by train:

Schengen transit visa
If necessary, a transit Schengen visa is issued for a car trip. This type of Schengen visa is issued for 4 days. It allows you to freely cross the border of Lithuania without restrictions, but during the specified period of validity.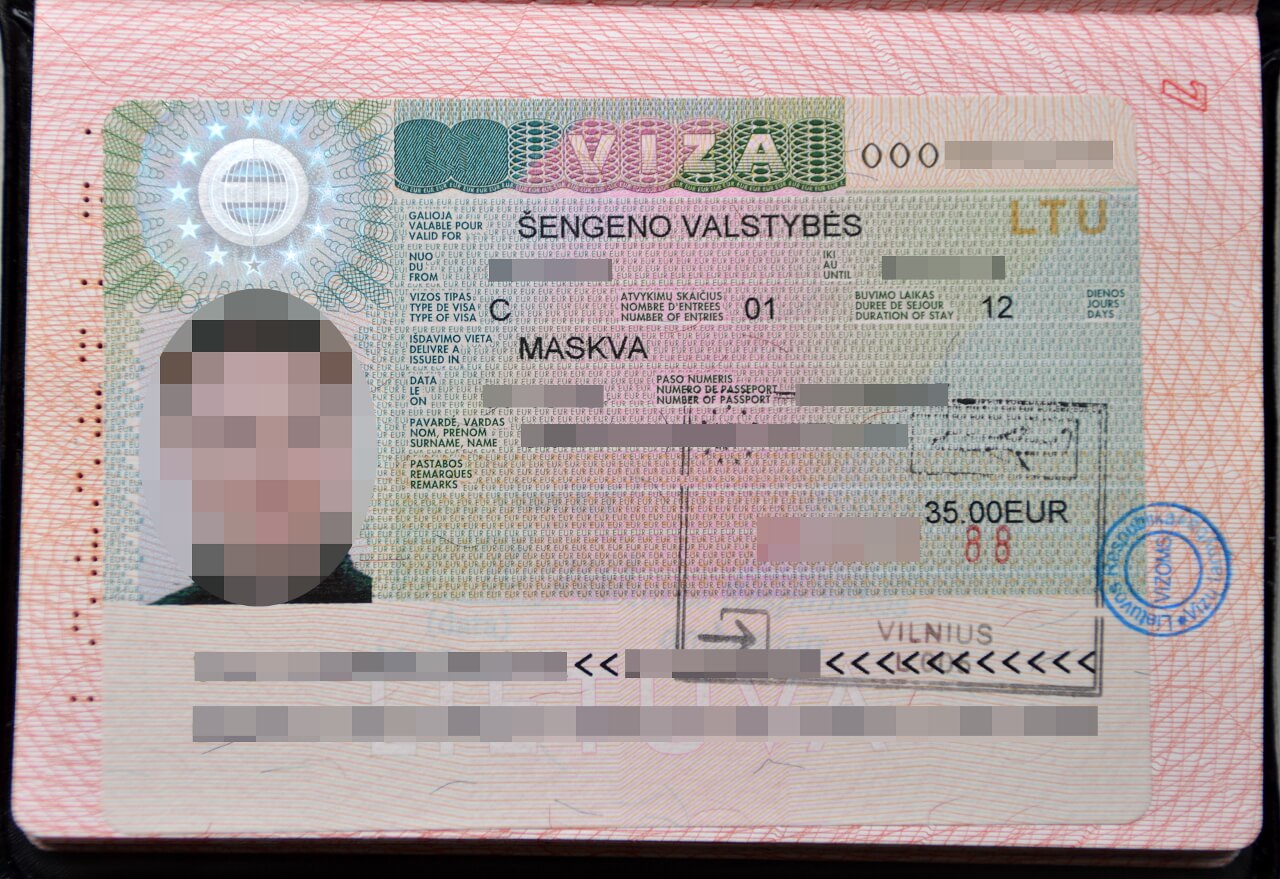 Russians do not need any additional papers except for the current Russian passport to enter the territory of the Kaliningrad region. Documents submitted for a Schengen visa are issued in accordance with the requirements of the European Union. The following is being prepared for a transit visa:
Questionnaire Filled through the official website.
Photo 35 × 45.
Consular Visa fees - 35 euros.
Passport valid for more than 3 months after the date of return.
Internal Russian passport and copies of all pages with marks.
Insurance policy of international standard.
Confirmation of the route. Tickets to a third country or itinerary.
Documents for the car: green card, TCP, driver's license.
Confirmation of solvency at the rate of 40 euros per day. For example, a certificate from work or a bank statement.
The maximum consideration period is 10 working days, in rare cases up to 30 days.
Let's sum up
The train is the most budget way to travel to Kaliningrad through Lithuania, and the easiest is by air travel. Crossing the Lithuanian border by car is associated with certain difficulties. For all countries of the European Union, there is an unwritten rule that the more often a person travels around Europe, the less he has problems with issuing travel documents. Lithuanian Customs Service adheres to this rule.
In order to simply pass through Lithuania, you must have an open Schengen visa. When a citizen of Russia does not have it, in order to travel through Lithuania, it is necessary to issue a document called a transit visa. Since 2016, citizens of Russia visiting Kaliningrad have the opportunity to get a simplified format. Its cost is about 30 euros and for its registration requires a slightly different set of documents than for the Schengen. But do not forget that with such a visa you can not leave the airport zone or station and visit the cities of the country.
The happy owners of the Schengen multivisa do not have any difficulty in visiting Lithuania. They can visit cities, they can simply drive through it, following to other countries of the European Union. But what about those who do not have this document? What to do to a transit visa to Lithuania was issued quickly and correctly? Here your concrete intentions come to the fore - just to cross the territory, never stopping anywhere or staying in it a bit.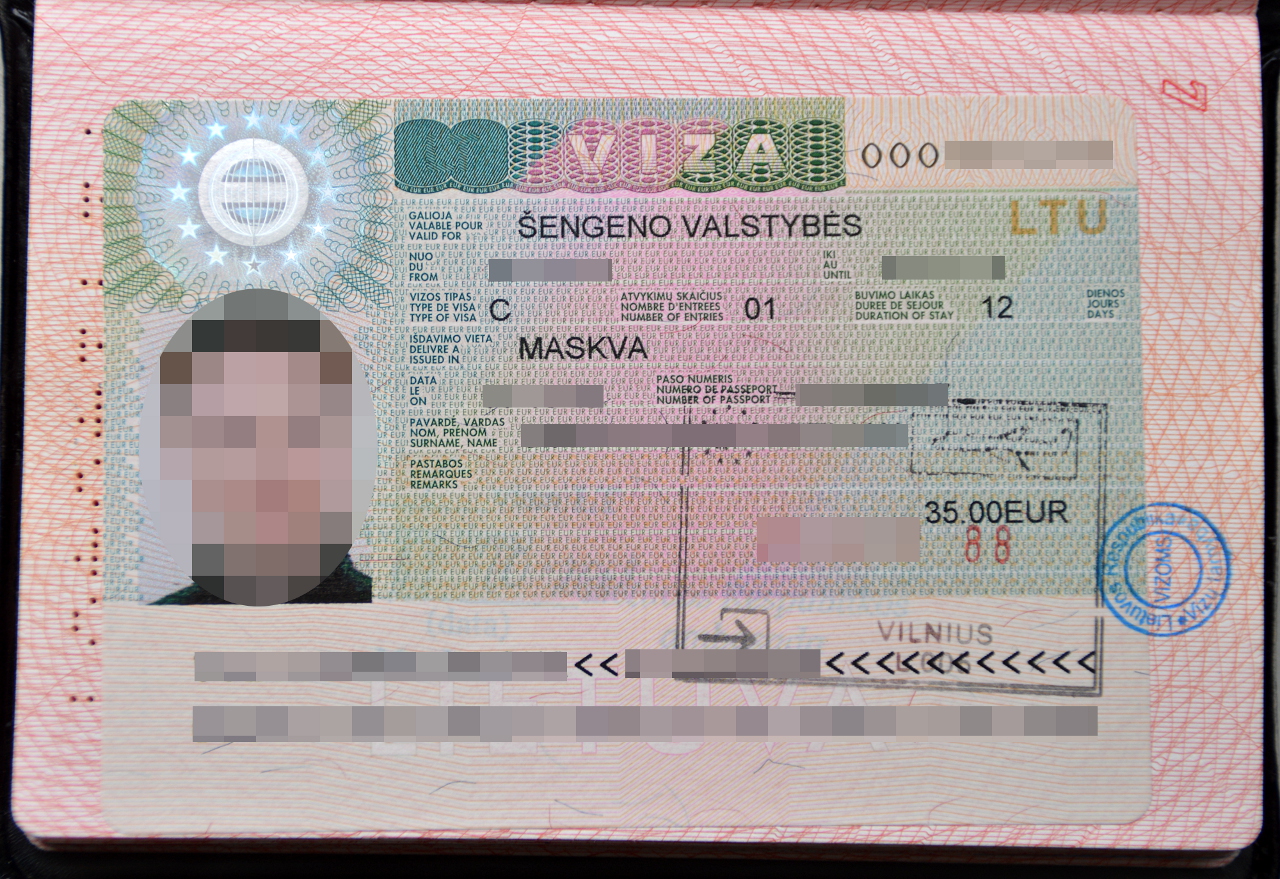 Transit visa to Lithuania - looks like any other Schengen
What are categories A and C?
If you just need to make a transfer at some airport in Lithuania, without leaving the trans-shipment zone, then category A is enough.
If you would like to be in the country a little while following the passage, then you should arrange a short-term category C. For traveling by your own car of this form will also be quite enough. A category B visa was issued some time ago specifically for autotravels through this Baltic state, for example, in order to travel to Kaliningrad by car, but now this type has been abolished. Category C will also be enough to travel to other EU countries. Therefore, if you have issued this category, you will not need anything else.
Rules for category C
This short-term view is issued at the embassy of the state that is a member of the European Union But there are some cases in which it is necessary to apply specifically to visa department Lithuanian Embassy:
This is your only destination, you are not planning to visit other countries.
You will enter different states in the Schengen zone, but in the Republic of Lithuania you will spend most of the journey.
You will spend most of your time in the Republic of Lithuania, although you are planning to enter through another country (not Russia).
During the trip, you will pass through several EU countries, giving each of them approximately an equal amount of time, but the entry will be carried out specifically through the Baltic country.
What documents are required?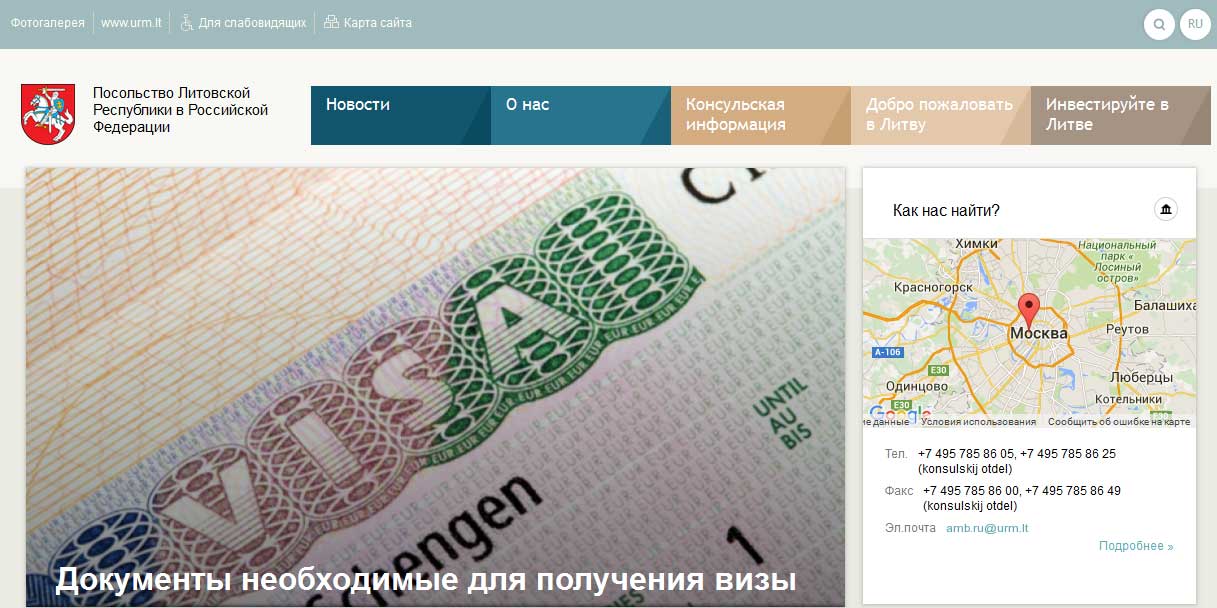 Check it out at the airport will not work, so you should take care of collecting all the certificates in advance. In addition, the list is quite impressive:
Filled in strictly printed letters profile. It would be better if you fill it in online via the Internet.
Photo attached to the above profile. The photo must meet certain standards that employees in any reputable photo studio know.
Two passports (a citizen of the Russian Federation and a passport), their photocopies. You will also need to submit passports that have expired. You need to copy the very first spread, on which there is your photo and pages containing information about registration. But it may not be superfluous to copy the rest of the pages.
Medical insurance. It is standard for all who go to rest abroad. The term must correspond to the period of stay abroad. The minimum amount of this insurance is 30 thousand euros.
Availability confirmation permanent place work or study. It is made on the original form and sealed.
Proof of permanent income. In this capacity, you can make copies of savings books, extracts from personal accounts and some other financial papers, on the basis of which it can be concluded that you have the necessary funds in your account.
A detailed description of your travel itinerary, which is desirable to attach a photocopy of air tickets, booked rooms, etc. Having presented the entire package, you will significantly increase your chances for a favorable outcome of the case. Thanks to the submitted details, the embassy staff will not doubt your intentions and will not additionally recheck all the data and slow down the matter.
Paid fee of 35 euros.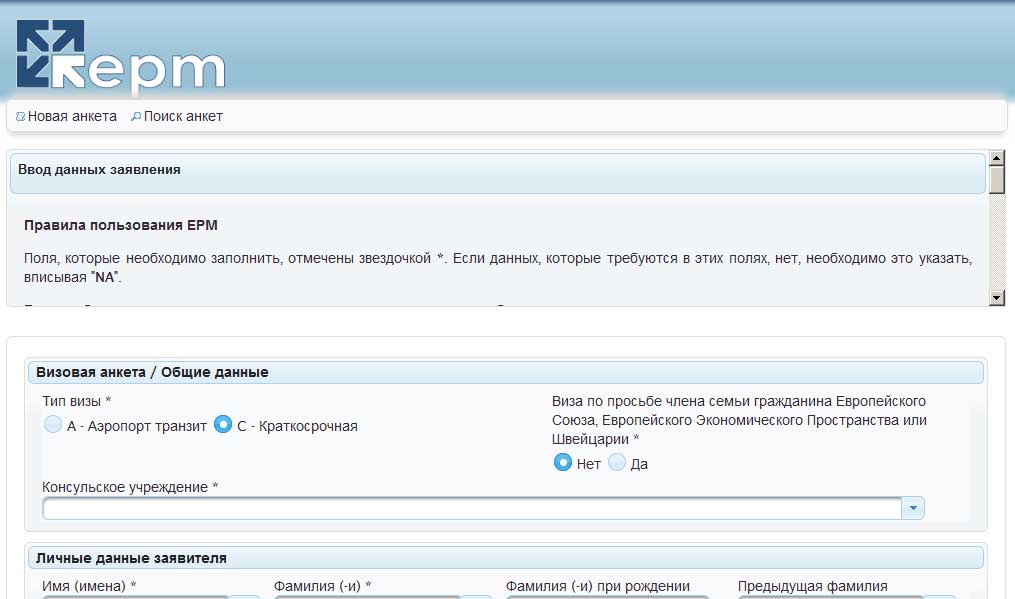 Transit system
As is known, residents of the Russian Federation are forced to pass through the territory of a neighboring European state, following to the city of Kaliningrad, located in the most western Russia. It is for citizens of Russia who want to freely reach this city freely and without unnecessary consular obstacles, a special transit visa has been developed through Lithuania - FTD, which stands for a simplified transit document. It can be said a special transit visa to Kaliningrad by car.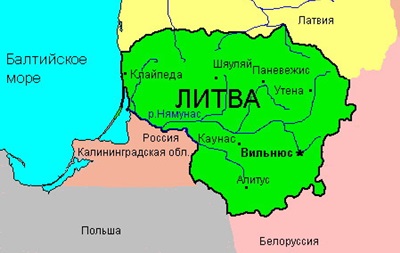 The ATD is also issued at the embassy, ​​the production time is rather short. It will be approximately 7 working days, subject to the timely submission of all necessary information. You must provide the following:
Application form and attached to it a photo corresponding to the Schengen standards.
Two passports and photocopies of the relevant pages.
Medical insurance covering the time required for travel.
Materials with which you confirm your need for frequent visits to the city. These are certificates of your close relatives who are permanently residing in this city, certificates of real estate located in the city and which is your personal property, partnership agreements with enterprises or legal entities of Kaliningrad.
Paid fee of only 5 euros.
Having issued all this, you should not be in Lithuania for more than 24 hours. In the state of Lithuania a transit visa will be valid just one day.
For traveling by car, 2017 is very convenient in terms of quick clearance . Following to Kaliningrad from Ukraine, from Belarus, you can also use this FTD. By the way, for Belarusians, when visiting Kaliningrad through this Baltic state, it is also necessary to issue permission for travel.
In order to cross the Baltic state, following to the former Königsberg by train, it is also necessary to issue an UTD. But you will no longer be personally involved in this, but by special employees of the Russian Railways. You are required to buy a ticket. But remember that before the departure time should be more than a day (approximately 28-30 hours). At the ticket office of the station, you issue a standard ticket, and then the data will be sent to the appropriate consular department. And already there workers will issue a personal permit to cross the border with Lithuania by train. But it will contain the following restrictions:
On the territory of Lithuania you should not be more than 6 hours (this is the time the train goes through the country).
You cannot use other means of transport.
You must remain in your place in the car at all stations located in Lithuania.
UTD should be in your hands throughout the trip.
The ATD in 2017 gives the right to cross the border four times to visit Kaliningrad.
If you do not want to bother yourself with registration, you can use the services of various intermediaries, such as numerous travel agencies that are available in almost any city, agencies that provide such services. Transit visa to Lithuania can be issued specifically for you. To do this, contact the Consulate General of the Republic of Lithuania directly. Its branches are in various (but more often rather large) cities of the Russian Federation. Address of the consular department of Lithuania in Moscow: Per. Borisoglebsky, 4. You can ask your questions and agree on the exact time of admission by calling the numbers listed on the department website. St. Petersburg branch is located on the street. Ryleev, at number 37. The Consulate General in Kaliningrad is located on Proletarskaya Street, in 133 houses.

Thus, obtaining permission to cross the former Grand Duchy of Lithuania is quite troublesome, but really doable. It is only necessary to prepare all the data required from you and to submit them to the appropriate authority in a timely manner. Good luck and successful travel!
If you find an error, please select the text fragment and press Ctrl + Enter .
Vladimir Ravilov | 2013-10-14
All tourists wishing to visit the most western part of Russia - the Kaliningrad region - by car, stumble upon an annoying need for mandatory registration transit visa. The Republic of Lithuania has recently entered the Eurozone, which means that it is impossible to travel through Lithuanian territory without obtaining a transit Schengen visa.
A transit visa is issued for a period of 4 days: 2 days there, 2 days back and it can be issued without the provision of travel vouchers and travel documents.
The list of documents required to obtain a transit visa is extensive. So, it is required:
passport , which expires no less than 3 months. before the date of the trip.
financial documents confirming your financial solvency, namely: a 2-NDFL certificate or an information letter from work that confirms your financial solvency, at the rate of 40 euros per person per day.
insurance for foreign travel with the amount of coverage of 30,000 euros at the time of transit (about 150 rubles per person);
the original and a copy of the Passport of the Russian Federation (sheets, where there are marks);
an itinerary map of movement in the Republic of Lithuania, drawn up in an arbitrary form (I made up in the form of a table, with the numbers of roads and places of border crossing, added a map of the route section to the same place);
documents for the vehicle (PTS and vehicle registration certificate) and their copies (if the machine is not yours, then a power of attorney is required, with the right to export the vehicle outside the Russian Federation, notarized).
After collecting all these documents, go to the VFS Global visa center or directly to the Lithuanian Embassy. There, if everything is fine, submit documents and pay a visa fee of 35 euros, as well as a fee for paperwork - about 800 rubles. I transit visa cost 2226 rubles. (May 2013). The term of registration is 1 week.
If you don't have a green card. This is an analogue of CTP for foreign travel. I didn't take risks. In Russia, it is useless to look cheaper. In addition, insurance is needed for transit through the territory of Belarus.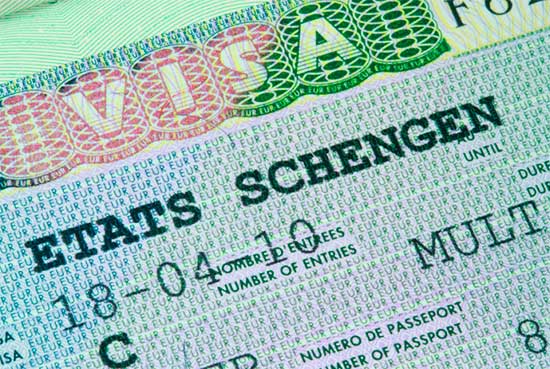 Having received a visa and going on the road, do not forget to prepare the car for the trip, equip it with a reflective vest, first-aid kit, fire extinguisher, warning triangle, eliminate leakage of process fluids. In addition, follow the tread depth of the tire - it should not be less than the maximum allowable, otherwise you will not be allowed into Lithuania. AT winter time years use winter tires - this is important.
For residents of Kaliningrad, use the website of the Consulate General of the Republic of Lithuania in Kaliningrad as a source of information in your region. This consular office accepts applications for a Schengen visa, filled in on a specialized Internet resource. (ed. 03/20/2014)
In addition, for residents of Kaliningrad and the Kaliningrad region it is possible to receive a FTD (Simplified Transit Document). UTD is issued for a period of up to 3 years in the presence of permanent or temporary registration in the region. If the registration is temporary, the FTD is valid until the end of its validity. Details of the FTD.
Application forms for a Lithuanian Schengen visa and Simplified Transit Document (MS Word format):

The questionnaires are filled out by hand in large block letters in Russian, if possible, the questionnaire should be filled out on a computer and printed.
Bon Voyage!
What does the FTD look like?
What does an FRTD look like?
But what about those who do not have this document?
What to do to a transit visa to Lithuania was issued quickly and correctly?
What documents are required?